What is a Centrifuge?
Centrifuge is an instrument that separates fluid of different densities or liquid from solids by applying centrifugal force. To separate the different densities fluid, Centrifuge Puts an object in rotation around a fixed axis (rotate it in a circle), applying a centrifugal force (force perpendicular to the axis of spin). Centrifuge works on sedimentation principle. Due to centripetal force denser substances and particles move outward in the radial direction and low-density substances are displaced and move to the centre. In laboratory centrifuge samples are kept into sample tube, the radial acceleration causes denser particle to settle to the bottom and less dense substances rise to the top.
Parts of Centrifuge: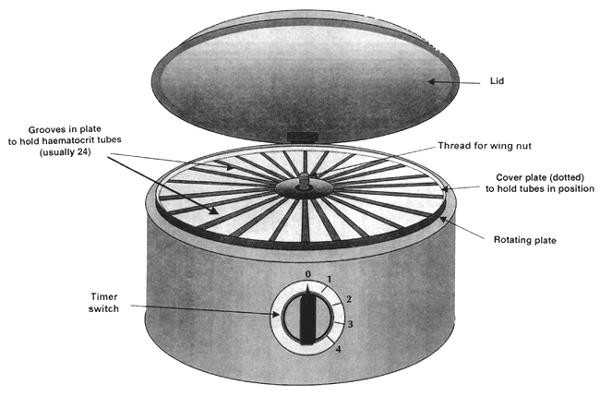 Tip to buy the right Centrifuge:
Temperature Control: According to requirement choose between Refrigerated and Non-Refrigerated Centrifuge because sometimes it is require to maintain the sample at a given temperature.
Refrigerated Centrifuge
Non-Refrigerated Centrifuge
Process Control: As per necessity how much precision and control required to perform the given process. You can choose between
Analog Centrifuge
Digital Centrifuge
RPM or G Force: According to requirement choose Maximum speed of centrifuge. Different sample and process require different speed to separate particles. Ex: Separation of plasma will be done at 2200-2500 RPM @10 minutes.
Types of Rotor: Mainly two types of rotor head is used in laboratory centrifuge Fixed Angle and Swing out Rotor. Within these two categories of rotors, various models offer different combinations of capacity and maximum RCF attainable.
Fixed Angle Rotor: It holds the tube at a stable angle (typically 45°) relative to the axis of rotation. When quick pelleting of small particles is required, fixed angle rotors should be used. Because of their design, these rotors are capable of higher speeds than the horizontal type.
Swing out Rotor (Horizontal Rotor): When centripetal force applied to the swing out rotor it holds the tube at 90° angle relative to the axis of rotation. Sedimentation of larger particles, such as cells, protein precipitates, antigen-adsorbent complexes, urinary crystal, etc., can be done at lower speeds with horizontal rotors.
Rotor Head Capacity: After selecting type of rotor head you need to select rotor capacity according to your requirement. It depends on No. of Tubes and their size you require at a time for your requirement. Example of some rotor head capacity are 16 X 15ml, 12 X 15ml, 8 X 15ml, 6 X 50ml etc. In these capacity first digit tell about the no. of tube one rotor head can hold and second digit tell about the capacity of rotor head like in 16 X 15ml- No of tube is 16 and each tube capacity is 15 ml.
Various Application of Centrifuge:
Blood Sample Separation- Blood separates into three main components: red blood cells, white blood cells, and plasma.
DNA/ RNA Separation- DNA preparation is another common application for pharmacogenetics and clinical diagnosis.
Cell Culture Separation
It is used in chemistry, biology, biochemistry and clinical medicine for isolating and separating suspensions and immiscible liquids.
Centrifuges are used to separate cream (remove fat) from milk.
Safety Tips :
The load in a centrifuge must be carefully balanced. When rotor is at high speed even small difference in load mass can cause large force imbalance. Force imbalance may cause damage to rotor, centrifuge or even a person. Some centrifuge comes with an automatic rotor imbalance detection features that immediately stops the centrifuge when an imbalance is detected.
Always check the rotor and lid locking mechanism before starting the centrifuge. Never touch the centrifuge rotor while it's moving, because it may cause serious injury.
Another potential hazard is the aerosolization of hazardous samples during centrifugation. To counteract pollution of the lab, rotor tops with extraordinary airborne tight gaskets are accessible. The rotor can be stacked with the specimens inside a hood and the rotor top settled on the rotor. A short time later, the airborne tight arrangement of rotor and top is exchanged to the axis. The rotor would then be able to be settled inside the axis without opening the cover. After the run, the whole rotor get together, including the top, is expelled from the rotator to the hood for additionally steps, keeping up the examples inside a shut framework.
Why to Buy Centrifuge online at Industrybuying.com?
Industrybuying helps the customers to find the best in class Laboratory Centrifuge online.  So be it microcentrifuge, Medical centrifuge, Clinical Centrifuge, ultracentrifuges, Benchtop Centrifuge, Refrigerated Benchtop centrifuge or vacuum Centrifuge we have plenty of branded solutions to offer. You can find some of the top brands online at Industrybuying.com such as Remi, Hettich, Heathrow Scientific, Weswox and Abdos.
Industrybuying.com is one of the leading B2B e-commerce portals of the country. The company assorts an entire range of Lab Supplies which includes Laboratory Equipments like Microscope, refractometers, magnetic Stirrer, Overhead Stirrer, Incubators, Ovens and Labware (Laboratory Glassware or Plasticware). You can avail best prices on top brands and if you are looking to buy in bulk you won't have to spend extra cash rather, with our exclusive discounts, you will only end up saving. Industyrbuying.com offers a streamlined online shopping experience and a glitch free online payment channels to complete transactions via Net Banking or Credit/Debit Cards. You can also make the payment via Cash on Delivery or choose any of the available EMI plans. In case of any doubt or help you can reach out to us for professional assistance through our Toll-free number 1800-300-09551.