What Is a Pressure Washer?
A Pressure Washer is a machine which uses high pressure water spray to remove dust, mud, paint, mold, grime, dirt etc from objects such as building, vehicle, driveway, garden, patios, concrete surface etc.
Pressure washer creates high pressure and velocity.
Parts of Pressure Washer:
. Water Inlet – It's a hose that connects pressure washer to the main water supply.
. Electric Motor or Gas Engine – It is designed to power the water pump. Generally pressure washers run on the domestic supply but in case of bigger models, gasoline engine serves the best option.
. Water Pump – It is driven at high speed by electric motor or gas engine.
. High Pressure Hose – It's the thing that runs out of pressure washer to any attachment that you will be using for the cleaning purpose. Hose is made of wire mesh and has two or more layers of high density plastic.
. Cleaning Attachment – Depending on the purpose of cleaning you can use a simple trigger gun to a spinning wand spray or rotating brush.  
Types of Pressure Washers
There are  three basic types of pressure washers: Electric, gas-powered, and professional pressure washers that make use of gasoline, diesel or sometimes even kerosene.
Electric pressure washers are very light and portable. They simply need to be hooked up to a power outlet. Gas powered units are more powerful as compared to the electric ones, but portability at the time of use is limited by the length of the hose. Professional pressure washers are often truck-mounted and are bulky in size. Depending on the task at hand, you can opt for the best pressure washer as per your need.
Pressure washer consists of a high pressure pump powered by a motor (electric, pneumatic or hydraulic). It takes in ordinary water from tap or other water supply and accelerate the water to high pressure through pump then squirts it from the hose at a high  speed through spray gun. You can use various type of attachments to the end of hose.  
Some washers with an appropriate nozzle allow detergent to be mixed in water stream.
Types of Chemical injectors:
Downstream injector – That mixes the chemical after water leaves the pump.

Upstream injector – That mixes the chemical before water enters the pump.
How Does a Pressure Washer Works?
Detergent is mixed in from a container/ bottle through a hose.
Cold water flows in from water supply (tap or faucet) through a different hose.
An electric motor or diesel engine powers the pressure washer.
A water pump (powered by motor or engine) draws in the detergent and water and mixes them together.
The pump squirts the water through the high pressure exit hose (or any other attachment). Nozzle used in front of this hose increases the pressure of water even more.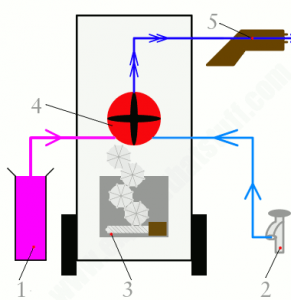 Uses of Pressure Washer:
In many industrial cleaning purposes for the removal of surface dust, grease, oil and dust free cutting of some metals and concrete.
For cleaning home and garden areas – Driveway, Parking areas, Cars, Patios etc.
In cleaning Garages, removing graffiti etc.
Do's and Dont's for Pressure Washers
Read the Instruction Manual.

Wear safety equipment and take extra care on wet surfaces as it can get slippery.

It is important to begin with the widest spray angle.

Keep the nozzle away from yourself as well as other people.

An extension cord should not be used with an electric-powered model.

Keep the nozzle moving in order to prevent the water from cutting into the surface.

At the time of cleaning vertical surfaces, wash from the bottom up, and rinse from the top down.
Choosing The Best Pressure Washer
If we talk about practicality, it would be better to look for a pressure washer with a quick-connect capability. If you can change nozzles and attachments in few seconds,  every cleaning job will become a breeze.

For easy movability, it is useful to pick a unit of pressure washer that comes fitted with transport wheels. The ones with big, off-road tires suited for all kinds of terrain are especially recommended.

Also, for putting away stuff like nozzles, extension cords and hoses, onboard storage on pressure washers is a must. It is important to keep all these items together so that you do not lose them.
Shop online at Industrybuying for best in class pressure washers
Now you can easily buy automotive maintenance products like pressure washers and  accessories online only on Industrybuying.com. All the products listed on our website are of high quality and manufactured by highly reputed companies such as Castrol, Bosch, JF Tools, Stanley, Big Bull, etc. Opt for the best car maintenance tool at the most affordable rates online. Pressure washers or car washers range between INR 1,800 to 1,00,000 and can be chosen as per your need and requirement. At Industrybuying, you can get some amazing discounts and bring home your favorite products at great prices using flexible payment methods such as Cash on delivery (COD), net banking, debit and credit card payment. Industry Buying provides also offers warranty on all products and you can rest assured about the quality. Furthermore, businessmen can avail huge discounts on bulk purchases. So, take a step further and shop online for an incredible experience!