Are you thinking of  buying safety shoes ? If yes, you must know all about them. When it comes to the safety of feet at the workplace, boots become an important part. For 100% safety, you need to put your safety shoes on. These shoes protect your feet against various sorts of hazards within the work environment. They become your safety shield in case of any workplace accident. They protect your feet from heavy objects falling on them, preventing workplace injury. The shoes come with great features such as slip-resistant soles, safety toes and appropriate ankle padding to protect your feet at all costs.
Why Are Safety Shoes Important?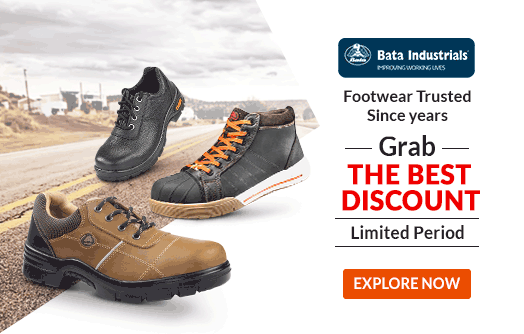 Selecting a pair according to the requirements of the job is crucial since there are various types available for you to choose from. Let us first talk about what safety boots do!
1. Electric Shock Resistant: Ensure that your feet remain safe at all costs while at work. These shoes provide resistance against all electrical shocks- big and small.
2. Impact Resistant: Work stations such as construction sites are often prone to accidents with heavy loads falling on the feet. Safety shoes become vital in such an atmosphere.
3. Slip Resistant: Equipped with anti-slip features, the shoes help in smooth working at the workstation.
4. Protection Against Sharp Objects: While handling sharp objects such as blades, knives and scissors, it becomes vital to protect your feet. Safety shoes just serve the purpose.
5. Protection From Fatigue: Working for long, tedious hours often leads to swollen feet. Industrybuying offers safety shoes with comfortable soles that will keep your feet fatigue-free.
Know About The Types Of Safety Shoes:
Based on the type of application, safety shoes can be divided into the following:
1. Heat-Resistant Safety Boots– Heat-resistant safety boots provide maximum safety against excess heat and temperature. They are made up of abrasion-resistant materials that ensure safety against fire.
2. Ladies' Work Shoes– Safety boots specially designed for ladies are manufactured keeping in mind the requirement of the job. The safety shoes for women are elegant yet tough and are appropriate to be worn across many important sectors, such as engineering sites, hospitals and laboratories.
3. High-cut Safety Boots– When there is an additional need for ankle and shin protection, high-cut safety shoes come to the rescue. This protective boot is apt for workers dealing with rough environments promising comfort as well as safety at each step.
4. PVC Boots: Wet shoes are not only uncomfortable but extremely risky, maximizing the risk of slip and fall injuries. Waterproof safety boots are highly helpful in such scenarios. They keep water out, prevent slips and keep the feet dry throughout. Rest assured, your boot will remain mess-free and dirt free.
5. Low-cut Ankle Boots: The main reason why workers prefer to wear ankle boots is their flexibility and comfort. Working in a tough environment becomes easy with these lightweight safety shoes.
Before You Buy Safety Shoes: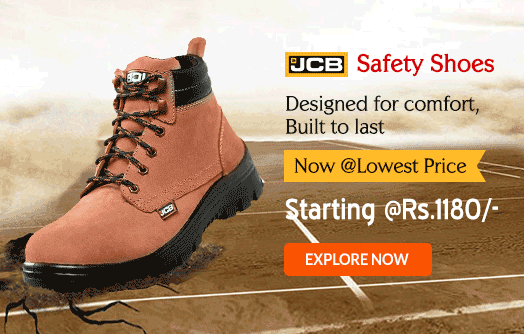 Before you plan to buy safety shoes for your employees, consider the following factors:
1. Type Of Industry You Are Dealing With: This is an essential factor to be considered before anything else. Different types of industrial safety shoes are designed for different types of work conditions. A careful selection of the pair of boots appropriate for the industry should be made.
2. Temperature: Since high temperatures can potentially harm the feet in ways unimaginable, it is important to consider the environmental conditions around the working area. Heat-resistant shoes are extremely helpful in such situations.
3. Protection Type: There are a variety of safety shoes available in the market today. Choose the ones which best protect your feet. The type of protection they offer is crucial. For instance, steel-toe safety shoes are perfect for the manufacturing industry, PVC shoes for construction sites and electric shock-resistant boots in the electricity and water utility sectors.
4. Comfort: Although talked about in the later part of this blog, comfort is the primary factor which ensures proper functioning in any sector. Trust Industrybuying for maximum safety and comfort of your feet.
Why Consider Industrybuying For Buying Safety Shoes?
With a plethora of options to choose from, you can find all sorts of safety shoes at Industrybuying. Be it gumboots, leather safety shoes or shock-resistant boots, you can find everything here. We leave no stone unturned in providing the best in the industry. Working in association with many known names in the industry, we make it a point to deliver only what is best for you. Trust us for maximum safety and comfort when it comes to safety shoes.