Car washers make your outdoor car cleaning jobs quicker and a lot easier. You can watch the stubborn dirt and dust wash away with little effort, making the hard task of cleaning the car, fence, walls, driveway and patio appear super-easy. Our handy buying guide can help you choose the right pressure washer within your budget.
How Do They Work
There is no point scrubbing away at your bike, cars, or garden tools in an attempt to remove dirt and grime when you can use a portable pressure washer to get the job done in a fraction of the time. Indeed, a good pressure washer blasts out water at very high speed so you can clean pretty much anything. They use much less water than a garden hose and many come with a range of accessories for different jobs such as car wash brush, lance, turbo nozzle, jet nozzle, to name a few.
Electric Pressure washers can be divided into 3 major segments, which are –
Entry level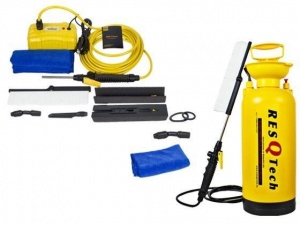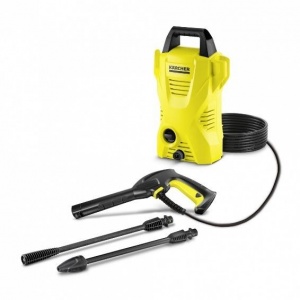 Best for: Cleaning small areas, bicycles, small cars and garden furniture.
These tend to be own-brand models that have low-powered motors, low water pressure (less than 90-bar) and low water flow rates. They are split into small hand-carried units with low handles and small wheels.
Hoses lengths vary from 3m to 5m which is an adequate length for car cleaning. Some pressure washers come with fixed nozzles that don't allows you to vary the water pressure accordingly.
Pros: Cheap, can cope with light cleaning tasks, easy to move around, light weight.
Cons: Short hoses and low power may make cleaning slow and tiresome. These machines often have very noisy motors and lack the power to clean tough dirt. Lances and accessories can be a bit flimsy. Sometimes Patio cleaner attachments tend to be poor at cleaning. Limited on-board storage for cables, hose and other accessories.
Mid-range
Best for: Cleaning domestic garden decking, cars and 4x4s.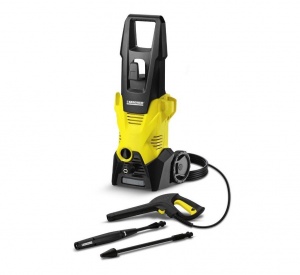 Expect a medium-powered motor mid-range water pressure (100 to 130-bar) and medium flow rates. Most units are a bit heavy, have wheels and on-board storage for accessories. Some may even have hose reels for comfort. Hoses tend to be 5m or 6m in length.These tend to be a mix of high-end own-brand models. As such, you'll find a confusing array of high-powered but basic models by garden machinery, mid-powered and high-powered and highly accessorized machines.
Pros: Good cleaning ability and easy to use. Good hose lengths that comes with hose reel and are often provided with a range of useful accessories for washing.
Cons: Often sold in packs with different accessories, sometimes it can be confusing to work out which will suit you best. May lack the power to clean the most encrusted dirt, weeds and lichen. Good on-board storage for accessories, but usually a bit large to store easily
Premium models
Best for: Cleaning extensive areas of paving, grimy 4x4s, commercial vehicles and caravans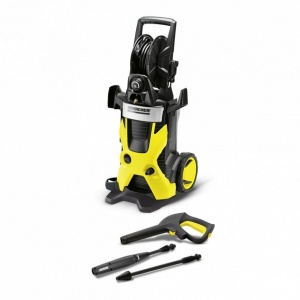 These tend to be made by well-known machinery brands such as Karcher, Bosch, Cumi. These are semi-professional models with high-powered motors, high water pressure (130 to 150-bar) and high flow rates.
The machines tend to be very heavy to cope with the high-powered motors and pumps, and use more-durable aluminum pumps and induction motors. Large wheels, telescopic handles, multiple lances and robust cleaning accessories are common in these models.
Pros: Brilliant cleaning ability. Long hoses, high power and flow rates that makes cleaning quick and easy. Often have a less disturbing tone. Good on-board storage for hoses, cables and accessories for easy use.
Cons: Possibly overpowered for many domestic jobs and very powerful so that you have to know how to use them properly to avoid damaging your surfaces. Expensive, large and heavy can be difficult to handle.
Features to look for in a car washer
Water flow rate : A high water flow rate will indicate highly efficient cleaning and rinsing capability.
Engine Size : It is advisable to check the watts on electric models and cubic centimetres (cc) or horsepower on petrol models of car washers. The higher the rating, the more powerful the pressure washer is.
Wheels, weight, hose length and cord length : These are some important factors that should be considered before purchase.
Get the best car washers at wholesale rates on Industrybuying.com
If you are looking for powerful car washers, you can get all that you need at the Industrybuying platform. You can browse through the entire product description and specifications in details for more information about the product. At the same time, you can even explore multiple brands for related products to choose from. When you opt to purchase from Industrybuying, you can stay completely assured about the quality and price because we only collaborate with top brands to deliver quality products. Besides the different deals and cashback, businessmen who are looking to purchase car washers in large quantities can avail huge discounts on bulk purchases. Moreover, we accept multiple payment modes such as net banking, credit/debit card as well as cash on delivery. With free shipping above Rs 1000, huge discounts, timely delivery, branded products at low rates with flexible returns; the reasons to shop at Industrybuying are many. So, wait no more! Shop for quality car washers online from the nation's favorite e-store today!