What are Deep Groove Ball Bearings (DGBB)?
Deep Groove Ball Bearing or DGBB is one of the most opted for Ball bearings in the market. For applications in heavy industries and high precision apparatus, it is the Deep Groove Ball Bearings which provides a larger area of contact to deliver high-performance along with high load capacity. Deep Groove Ball Bearings have a two-fold application-                                                 
Providing rotational motion between a stationary and a rotating part

Supporting radial and axial loads
Different Types of Deep Groove Ball Bearings:
Open Type

Shielded Type

Sealed Type (Non-Contact)

Expansion Compensating Bearing
Typical construction of DGBB (Deep Groove Ball Bearings)
Components in a DGBB-
Inner Ring

Outer Ring

Steel Balls

Cage
A DGBB is made up of 2 rings- inner ring and an outer ring. There are grooves cut into both the rings, so that the bearing assembly can take up radial and axial loads.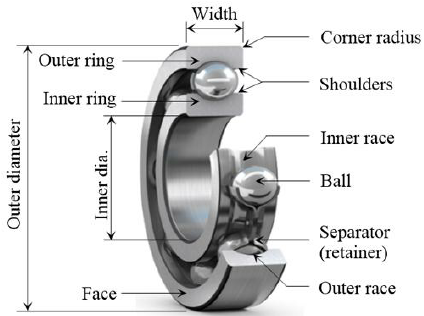 To place the steel balls evenly around the rings, there is a plastic / metallic cage to hold them in position.
Tips to select the right Deep Groove Ball Bearings
There are certain features that you must take into consideration to decide the right Deep Groove Ball Bearings. You can refer to the product description page for the features of a product or you can sort your search to find just the Ball-bearing you are looking out for which includes:
Available Space

Misalignment

Precision and stiffness

Speed

Operating temperature

Vibration levels

Contamination levels

Lubrication type and method
Besides the Above mentioned features make sure to check out the Load Rating of Deep Groove Ball Bearing. Following load ratings need to be considered while selecting a bearing-
Dynamic Load Rating- This is considered for the bearings that are dynamically loaded or rotating under load. It is however assumed that the load is constant in magnitude and direction. It corresponds to the bearing load that the bearing can sustain for a rated life of 1,000,000 revolutions
Static Load Rating- This corresponds to a calculated contact stress at the center of most loaded rolling element / raceway contact which is approx. 0.0001 of the rolling element diameter. Static Load Rating is considered for very slow rotational speeds, very slow oscillating movements, stationary bearings for extended periods
Applications of Deep Groove Ball Bearing
These bearings are quite versatile and used in high and very high speeds, robust in operation, requires little maintenance, simple in design and non-separable.
Gearboxes

Instruments

Motors

Pumps

Household Appliances

Internal Combustion engines

Agriculture Machinery

Construction Machinery

Engineering Machinery
Operating Life of a Bearing:
The Life of a bearing is dependent upon the number of revolutions or the number of operating hours at a given speed that the bearing can withstand before the metal fatigue occurs. The metal fatigue can occur on the raceway of inner or outer ring or on the rolling element.
The general reasons that contribute towards failure of a bearing are abrasive wear, moisture, improper mounting, corrosion, improper shaft/housing fits, skidding of rolling elements, and failure due to lubrication systems.
Why to buy Deep Groove Ball Bearing online at Industrybuying.com
There are not many which can boast of a strong customer base and as well as the number of top-notch brands that are present on Industrybuying. Industrybuying.com is one of the leading B2B e-commerce websites of the country and offers exclusive prices on the top brands such as NTN, FAG, TIMKEN, KOYO, SKF, KYK Japan, ZKL, NBC, Nachi, BMD, Standard Make, Rhp, NTN JAPAN, GMN, IKO, FAG GERMANY, Grundfo besides many others.
Check out the wide range of Deep Groove Ball Bearing available on Industrybuying. Filter your search based on specific search filter and you will have plenty of branded options to choose from. For any requirement of Bearing you will be delighted to know that Industrybuying.com assorts an entire range of different types of Bearings.
So be it Angular Contact Ball Bearings, Automotive Bearings, Bearings Accessories, Cylindrical Roller Bearings, Deep Groove Ball Bearings, Miniature Ball Bearings, Needle Roller Bearings, Pillow Block Bearing, Radial Ball Bearing, Self-Aligning Ball Bearings, Spherical Roller Bearings, Tapered Roller Bearings, Thrust Ball Bearings or Thrust Roller Bearings, Industrybuying provides high-performance Bearings which carry a genuine brand warranty.
Industrybuying offers a hassle free online shopping experience which includes Exclusive discounts on top brands, special discounted rates on bulk orders and free shipping right at your doorsteps on purchase order above Rs ,1,000. To make the payment you can choose any of the convenient modes among Online channels i.e. Net Banking and Credit/Debit Cards or you can also opt for Cash On Delivery and any of the available EMI plans. In case of any query or doubt you can reach out to us through our Toll-free number 1800-300-09551.