"Inventory is money sitting around in another form" – Rhonda Adams, U.S.A Today
How often have entrepreneurs wished for a way to buy their inventory and pay for it later from a share of their profits? The latest transactional feature on www.inudstrybuying.com – Buy Now Pay Later (or BNPL), allows you to do just that!
Buy Now Pay Later is an indirect money-lending system that allows you to shop products on our website without having to pay upfront. You can order the product, use it in your business operations, have it generate revenues for you and pay for the product later within the next 60 days!
Why SMEs love BNPL?
BNPL allows corporations to be in control of their working capital as they end up having cash in hand throughout the production cycle.

BNPL offers product quality assurance as it gives consumers a window to test the viability of the product.

Works as a free loan for SMEs, which are often reliant on banks and investors to fuel their growth.

Helps SMEs protect their money against the globally rising inflation.

Offers an opportunity for SMEs to invest their money elsewhere and speed up the growth of their organisation.
Global Adoption of BNPL
Owing to the massive value-add that comes with BNPL, countries across the world have started adopting BNPL in their regular B2B transactions. Here is a chart reflecting the increased market share of BNPL from 2016 to 2021 in major countries: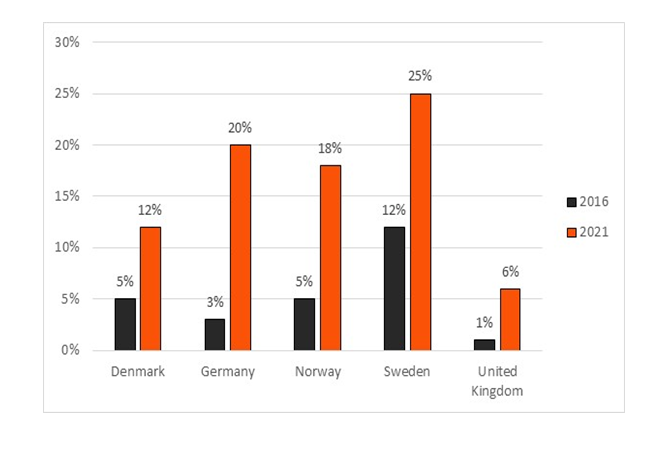 Not only do these numbers suggest a positive shift towards the adoption of BNPL, but they also reflect a change in the B2B consumer behaviour. B2B clients are gradually shifting towards a type of consumer psychology wherein they expect instant setting-up of their inventory and a significantly reduced barrier to entry, especially for new emerging companies across different domains. The success of the organisations will then solely depend on their ability to harness their inventory and generate optimal value for their clients. At the heart of this new B2B – B2C consumer cycle lies BNPL – the modern payment revolution.
Special Benefits of Activating BNPL on Industrybuying.com
While we've seen how BNPL is generally a profitable proposition for emerging businesses, there are some unique benefits that clients can avail by activating BNPL on Industrybuying.
No Activation Charges: You can activate your BNPL account on Industrybuying absolutely free of cost with no hidden charges.
60-Day Credit Period:

You can pay the entire cost at once, or you can choose to pay the full amount in multiple instalments over a period of 60 days.

Credit Limit Upto Rs. 2 Lakhs:

You can buy products worth Rs. 2 Lakhs without paying a single paisa upfront!

0% Interest Rate:

You just need to pay back the initial amount of purchase. All interests will be borne by Industrybuying so that you can enjoy the luxury of advanced shopping.

Simple Activation Process:

No paperwork and credit cards required. You can activate your BNPL account right now in less than 5 minutes!

Privacy & Security:

Our payment solutions are secured and we do not share customer data with any third party applications and platforms.
How to Get Started?
Activating your Buy Now Pay Later account on Industrybuying is a simple four-step process.
Step – I:

Sign Up / Sign In on Industrybuying.com using your phone number / email – ID.

Step – II:

Complete your e-KYC by uploading your PAN card and Aadhaar card.

Step – III:

Read the terms & conditions associated with Industrybuying's BNPL and accept the sanctioned limit.

Step – IV:

Sign the e-Nach, connect your bank account, and get started!
In this rapidly evolving world where industries are changing at the speed of thought, it becomes essential to upscale your business at a steady pace so that you can match the rate at which the world is progressing and outperform your competitors. The Buy Now Pay Later feature allows you to do just that and much more! Not only does it help you fast-track your success in a sustainable manner, but it also allows you to optimise your financial investments.
Activate your BNPL NOW and stay ahead of the curve!