A 2015 research paper published in the SSRN Electronic Journal stood in coherence with conventional wisdom when it concluded that entrepreneurs generally tend to be supremely optimistic individuals; more so than non-entrepreneurs. Perhaps, it is their belief in their ability to make the future better, that fuels this optimism. And it is this optimism combined with their will to go beyond the limit that serves as the primordial soup for new ideas.
However, dreams are separated from tangible reality by the fine line of money. In hopes of crossing this line, entrepreneurs are left with only two choices: to take debts and fall into potential debt traps, or to sell a share of their dream as equity to finance their ideas. Both of these approaches may help them build what they started, but this success comes at a huge price; which leads us to ask a simple question: Is there a better way to make dreams come true?
Lo & Behold – BNPL!
The
BNPL
Model
Buy Now Pay Later (BNPL) is a modern-day money-lending approach that allows you to buy products on credit without having to worry about the immediate funds that are available with you at any given time. It offers you the luxury to stock up on your business inventory and yield returns from that inventory instantaneously, without having to invest your own money beforehand. You can pay for the product(s) later, thus allowing you the breathing space to accumulate more wealth and grow your business at a more robust pace.
How Does
BNPL
Differ from Credit Card Payment?
While BNPL schemes and credit cards both work on the same fundamentals, there are some key benefits that make the BNPL option slightly more attractive, especially for small and medium enterprise owners.
Unlike credit cards that come with certain onboarding charges,

BNPL

schemes usually do not charge any extra amount, thus helping you start right away!

Credit cards also charge you an annual recurring fee for the continuation of the facility, as opposed to

BNPL

schemes.

In case of payment defaults, credit cards tend to charge higher rates of interest than BNPLs.

A lot of people who are not eligible to avail credit card facilities (due to low-income generation or any other reason) may find the option of using BNPLs more consumer-friendly.
Is the
BNPL
Model Sustainable?
Service providers love BNPL as it allows them to build trust and rapport with their clients while also encouraging the consumers to come back and purchase more orders on credit. It is a win-win ecosystem for both the involved parties and therefore, it comes as no surprise that BNPL schemes have been successful in many developing and developed countries across various industries.
As per the findings of the UK's top financial service providers – RFi Group, the percentage of adults in Australia who used BNPL at least once skyrocketed from 15% in May 2017 (since its mainstream adoption) to over 30% by May 2021. A similar jump from under 5% to over 25% was reported in New Zealand over the same period. The report also concluded that almost 98% of banked adults in China were familiar with the concept of BNPL. Such rapid adoption rates over a diverse set of demographics suggest that BNPLs are here to stay, and it is only a matter of time till BNPLs revolutionise the Indian business culture for the better.
Keeping in mind the rising need for business credit in India, coupled with the widespread expansion of the Make in India initiative, Industrybuying has introduced a BNPL scheme for our valued customers.
How Can You Benefit?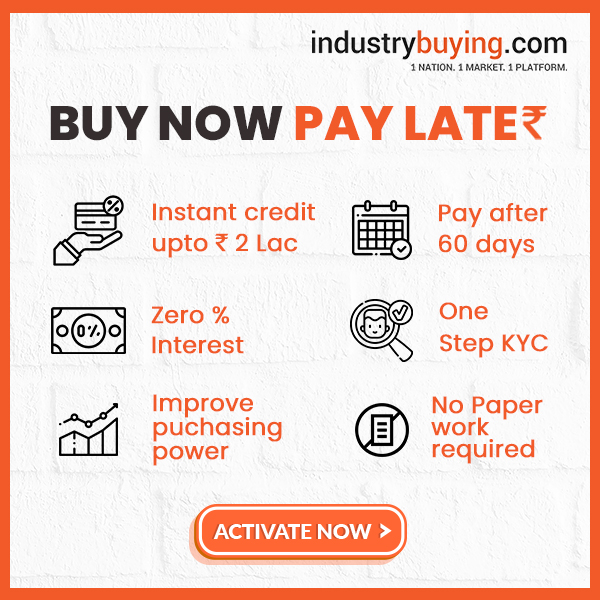 Apart from being able to self-finance your dreams which, in itself, solves the biggest pain point of a small and medium business owner, there are some attractive benefits that you get with Industrybuying's BNPL.
60 Days Credit Period:

You can buy the product(s) you want TODAY and pay for them at your convenience, any time within the next 60 days.

0% interest:

Industrybuying will not charge ANY interest on the borrowed amount as long as the amount is paid in full within the prescribed time.

Credit Line of Rs. 2 Lakh:

You can buy product(s) worth Rs. 2 Lakh without having to pay a single paisa! Your business will use these products to generate revenue, and you can subsequently use those profits to pay off the cost of your investment on our product(s). Thus, you effectively get to buy your inventory for FREE!

You Name It; You Have It:

No OTP, no CVV required to complete the transaction. Get all the product(s) you want and build your business in one click.

No Credit Card Required:

Say no to transactional charges and annual fees, and get maximum value for your money.

Boost Your Purchasing Power:

In today's high-inflation climate, your money is losing value at staggering rates! The worth of goods and services you can avail in India with a sum of Rs. 2,00,000 today will only be equivalent to Rs. 1,98,000 within the next 60 days. Therefore,

BNPL

can act as a store of value for your hard-earned money.
Investing in tangible assets for your business is a resource-intensive activity. Not only do you need to develop holistic ecosystems to organise a systemic cash flow for re-investment, but you also need to ensure that you are investing in top-quality products that last long.
Industrybuying takes care of both your needs by offering you the best products from internationally recognised brands while allowing you to pay for them later at your convenience with sustainable and scalable financial models such as BNPL.
You can register here to activate your Industrybuying BNPL today and kickstart your journey to success!