What is a Borewell Submersible Pump?
Water scarcity is a common problem in most parts of our country due to scattered rainfall pattern and uneven presence of water sources like rivers, ponds, wells etc. This calls for the extraction of ground water which then can be supplied to houses, industries and farmlands. In order to extract water from the earth, it is important to install borewell submersible pumps. Borewell Submersible pump is a pump that is completely submerged in water and is sealed in an air-tight manner.
Borewell submersible pumps find their application in farm irrigation, fire fighting systems, water and deep well drilling, houses, industries, sewage handling systems.
Submersible pumps consist of an AC electric motor, impeller, diffuser, cable guard, submersible electric cable. Borewell pumps are put in a bore (cylindrical hole) dug in earth and is connected to electrical supply for operation. A submersible pump lifts water to the ground level by conversion of rotary energy of the impeller into kinetic energy of water. Water is sucked into the pump where it is pushed/lifted by the rotation of impeller through the diffuser.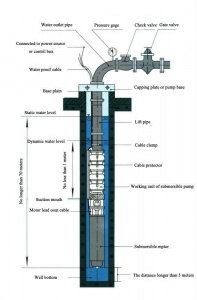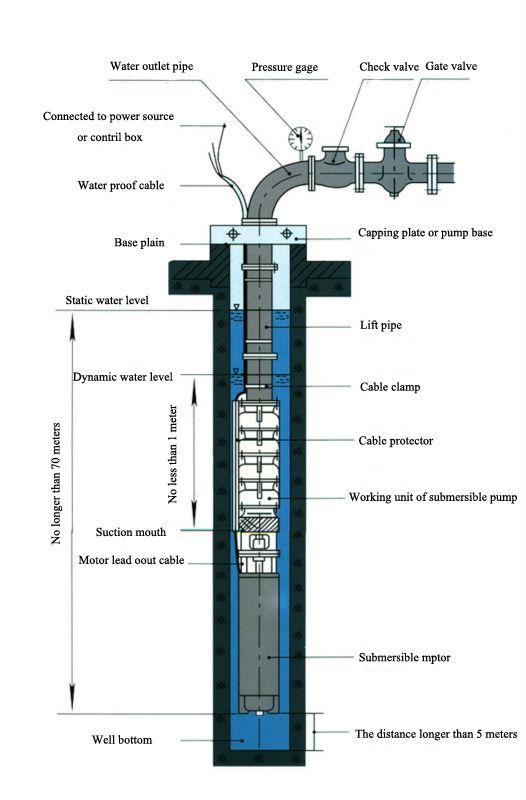 Key factors to keep in mind while selecting bore well submersible pumps:
Borewell Size: It is the diameter of the hole that is dug to put the submersible. A user can opt for a pump with lesser outer diameter size than the bore well size but he should avoid the reverse, as it will not fit.
Head: It is the height to which a pump can lift water. Depending on the size of house and the water table of the area of installation, the customer should select the best model. The depth at which the pump has to be put plus the height at which storage tank is located is the total head. It is measured in ft. or metres.
Outlet/Delivery Size: It is the diameter of the pipe through which water is ejected from the pump set. It should match the size of the pipe connected to our storage tanks. It is generally measured in Inches or mm.
Discharge Rate: It is the measure of amount of water pumped per minute. In case the area is big, we need a pump with greater discharge. It is measured in Litre per minute/hour.
Stage: All the pumps have an efficiency chart and selecting the correct stages of submersible pump, based on motor rating and head, is a vital step as it maximizes efficiency.
Cooling system: Bore well pumps come with both oil filled motor and water filled motor. In water filled motor the coolant is water and it can be refilled again and again making it a better option than the oil version where the coolant cannot be replenished. Oil filled variants are cheaper than water filled ones.
Material of Construction: This factor doesn't affect the performance or application of pump, but if one is looking for a product that has longer life, they should go for pumps with Noryl impeller and CI motor body.
Advantages of a Borewell Submersible Pump:
Self- Priming: As these pumps are totally submerged in water, they do not need to be primed. It also avoids any air bubble in the pump set which may damage the inner lining of the pump.
Enhanced Efficiency: As these pumps are submerged in water, it doesn't need to spend a lot of power in extracting water from source. The pressure of water enables the movement of water in the pump.
Better Water Availability: Since the water is extracted directly from the earth and not from municipal supply, a user can anytime switch ON the pumps and fill his/her storage tank. It avoids the hassles of storing water only at certain hours in a day.
Non Return Valve (NRV): This valve ensures that there is no back-flow of water at the outlet.
These pumps come in both single and three phase models depending on the rating of the motor. Special care should be taken while installing the pump in the bore because if it is not completely enclosed by water, it may cause overheating of the motor winding, reducing the longevity of the product.
Why to buy Borewell Submersible Pump online at Industrybuying.com?
We have the best assortment of brands like Crompton Greaves, Kirloskar, CRI, TEXMO, MXVOLT, OSWAL, iFlo and many more. All the brands have respective warranty policies as well; minimum 1 year. The most popular models in this category are the V4 (4 inch bore diameter) series pumps form Kirloskar, Crompton, CRI, TEXMO and MXVOLT having 1 HP & 1.5 HP motor power. We also provide control panels to be used together with some models like: Kirloskar KP4 Jalraaj 1008S, Kirloskar 1009S, Kirloskar 0713S and MXVOLT 1 HP submersible pump. You can also grab the best deals for other bore sizes like 3 inches (V3), 5 inches (V5) and 6 inches (V8).
At Industrybuying.com, we are always eager to recommend the right pump as per your needs. For more variants of pumps like Domestic Monoblock Pumps, Open well Submersible Pumps, Sewage Submersible Pumps, Centrifugal Pumps, Booster Pressure Pumps, Dewatering Pumps and Agricultural Pumps please visit Industrybuying. With exciting deals and offers on various products, the customer is assured an economical purchase. The company offers multiple payment modes. You can either choose the online payment gateway to carry out transaction via Net Banking or use Credit/Debit card and you can also opt for Cash On Delivery or any of the available EMI plans. In the case of any query or doubt we are here to help you. reach out to us for professional assistance through our Toll-free number 1800-300-09551.