Need for Domestic Monoblock Pumps
Water problem has been a key issue in India in both urban and rural territories. Even if we have good rainfall or the water sources like lakes, rivers etc. are filled, we face water scarcity quite frequently. Domestic Monoblock Pumps solve this issue for day to day domestic water consumption. They find their major application through domestic use in
Bungalows,

Apartments,

Hotels,

Hospitals and

Farm-houses.
Uses of Domestic Monoblock Pumps
Pumps are  an electromechanical device which is used to move/lift water from one location to another. You can select from a wide range of available pump ratings,which help cater to different home sizes. Domestic Water Pumps consists of an AC electric motor, spiral casing and an impeller. Motor winding is made of 100% copper. These pumps draw water from municipal supply, through the impeller eye, which then imparts kinetic energy to it and lifts it to our storage tanks. Pumps for household applications have less flow rate and power as compared to the industrial and agricultural pumps as water distribution area is less. Pumps for domestic application are self-priming which means that it doesn't need to be primed initially with water which makes it usage even easier. The water sucked in is not discharged from the tip of the impeller and is re-circulated back to the bottom of the impeller. This re-circulation or regeneration is how the pump re-primes itself.
Types of Domestic Monoblock Pumps and Best Brands
You can opt for various kinds of domestic monoblock pumps at the Industrybuying portal. Self Priming Monoblock Pumps, Standard Domestic Monoblock Pumps and Pressure Pumps are some of the different  varieties of best selling monoblock pumps. You can opt for the best brands when deciding about domestic monoblock pumps, which include Kirloskar, V Guard, Usha, Crompton etc. Also, the price of the pump varies from Rs 1500 to 18000 depending on the brand, phase and the power consumed by the pump.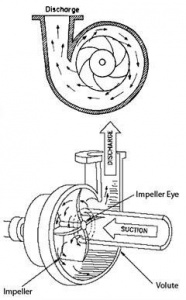 Choosing a Domestic Pump Online
The key factors to keep in mind for the selection of domestic pumps are:
Head: It is the height to which a pump can lift water. Depending on the size of house and number of floors the customer should select the best model. It is measured in ft. or Meters.
Inlet and Outlet Size: It is the diameter of the suction and delivery pipe which should match the size of incoming water supply pipe and the pipe connected to our storage tanks.
Discharge Rate: It is the measure of amount of water pumped per minute. In case the area is big we need a pump with a greater discharge. It is measured in Litre per minute/hour.
Material of Construction: This factor doesn't affect the performance or application of pump but if one is looking for a product that has longer life, they should go for pumps with brass impeller and CI motor body.
These pumps works on single phase electrical supply so they can be used in houses with single phase supply as well as three phase supply. However, the user should avoid running the pumps when there is no water supply from the municipality as it may cause overheating of the motor winding reducing the longevity of the product.
Shop for the best domestic monoblock pump online at Industrybuying.com
At Industrybuying.com we are providing hassle free solutions to our customers by making available a wide range of domestic water pumps. We have the best assortment of brands like Crompton Greaves, Kirloskar, CRI, TEXMO, USHA, HAVELLS, MXVOLT, OSWAL, Eagle, iFlo and many more. All the brands have respective warranty policies as well, minimum 1 year. The most popular models in this category are the MINI series pumps form Kirloskar, Crompton, CRI and MXVOLT. We also provide free fittings for installation with some models like: Kirloskar Jalraaj, Kirloskar Chhotu Star and MXVOLT Maxi-Flow.
For more variants of pumps like Bore well Submersible Pumps, Open well Submersible Pumps, Sewage Submersible Pumps, Centrifugal Pumps, Booster Pressure Pumps, Dewatering Pumps and Agricultural Pumps please visit Industrybuying.com Pumps page. With exciting deals and offers on various products, the customer is assured an economical purchase. You can browse through the product description and specifications in details in order to gain more information about the product.