Overview of Rotary Hammer
Rotary hammers are powerful tools that are used for drilling holes, especially for tough concretes or other materials with hard surfaces. Hammer drills or rotary hammer drills are drills with a rotating hammering action that can pulverize hard brittle materials, producing quicker drilling with less effort. These tools are usually driven by electricity or powered by batteries.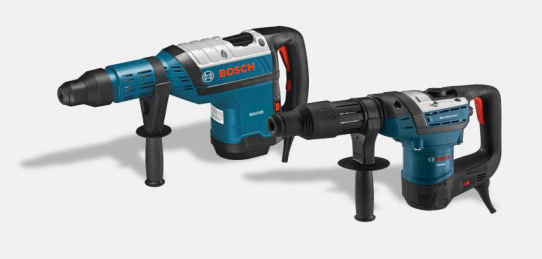 Features to Consider while buying rotary hammers
Before selecting the best rotary hammer for drilling into concrete or masonry determine the diameter of the holes you need to drill. The diameter of the holes will decide the type of rotary hammer and the bit/tool interface system you will need to select. Every tool has its own optimal drilling range.
The tool-bit interface system is mainly composed of the tool's internal components that hold the bit in place and transfer energy from the electric motor to the bit. Most hammers utilize one of three systems : SDS-plus, SDS-max or spline.
Spline is a popular tool-bit holding system that has been used for many years, but is gradually being replaced by the superior SDS-max system now. For each system those ranges are:
SDS-Plus : 3/16" – 3/4"
SDS-Max : 1/2" – 1-3/4"
Spline : 3/8" – 1-3/8"
Note –
SDS (Slotted Drive System) bits for hammer drills/rotary hammers allow the bit to slide in the chuck and enhance the hammering action of the tool for most applications.
SDS Max is designed for the heaviest masonry work. These powerful bits are useful in industrial applications.
Variable Speed feature allows you to adjust the drill for specific jobs. It is advisable to use high speed for small holes and low speed for larger holes.
Removable Side Handles give the operator better control during normal use and can be removed in confined spaces.
Safety features of a Rotary Hammers
As with any other power tool, it is important that proper safety be maintained while working with the hammer. With the use of a pair of safety gloves, you can ensure a firmer grip of the tool and also prevent any sweat-induced slips. Similarly, safety glasses protect debris and dust from making their way to the eyes of the workers also use a helmet ( hard hat ) to prevent any injuries to the skull from entire falling structures or debris.
Tips for using rotary hammers safely
1- Always read the user's manual before 1st time using the machine.
2- Use proper safety eye protection, gloves, and industrial safety shoes while working with the hammers.
3- Unplug the machine while changing the bit.
Advantages of Buying From Industrybuying.com
At Industrybuying, users can search and choose among the finest quality of rotary hammers which are durable as well as convenient to operate. We provide you with a wide range of branded rotary hammers such as Yking, Makita, Hitachi, Metabo, Dewalt, Bosch Power Tools, etc at the best price. You can also choose from a variety of products like Angle grinder, saw, Demolition hammer, marble cutter, etc.
For any requirement of Power tools Industrybuying.com is your one-stop destination. The company offers exclusive discounts on top brands and a seamless online shopping experience. You can easily make the payment via Online channels i.e. Net Banking and Credit/Debit cards or you can also opt for Cash On Delivery. For any professional assistance, you can reach out to us via our Toll-free number 1800-300-09551.