What is a Tool Box?
A Tool box is a storage unit mainly used to organize, carry, and protect tools .They could be used for trade, a hobby or DIY, and their contents vary with the craft and requirement of the owner .Imagine having all the Tools at home but struggling to find them when required or to store them at one place for ready use. Tool box lets you organize all the necessary tools at one place optimizing your storage space and keep the garage clean.
This guide provides tool box buyers with detailed descriptions of various types of toolboxes and their common uses. The guide also focuses on the advantages and disadvantages of different tool box types. By following the guide, buyers should be able to select the best tool box that will suit their needs perfectly.
Types of Tool Box And Their Uses:-
A toolbox could refer to several types of storage, shape and capacity to hold tools. It could mean a tiny portable box that can carry a few pins and nuts to a project location or a large storage system set on casters to carry high end forensic equipment. Modern toolboxes are predominantly metal or plastic due to economic feasibility and mass production capability though wood was the first choice for toolboxes built initially.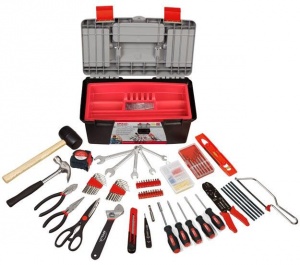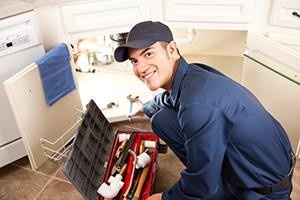 Plastic Tool Boxes :- A plastic tool box is a quick, effective, and inexpensive way to store  your tools to use in  your day to day work .These are often referred to as empty boxes as they are  mainly used to store the tools at someplace such as in home, garage or on work site . With the addition of more tools like Pins , Screws and nails  a toolbox  can be important as well as durable  – for quick access to tools . No matter which material you decide to go with, look for a toolbox that provides some organizational extras. Many tool boxes come with drawers which allows you lay out and organize your tools for easy access, along with removable trays and organizers. You can also opt for a cantilever tool box, with trays or bins that spread outward when opened. If your tools will be left on a work site or out in the open, it's a good idea to look for a tool box with a lockable lid for security.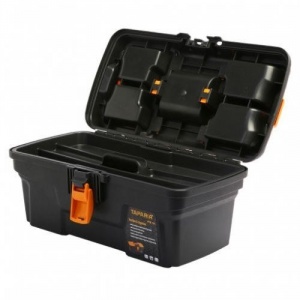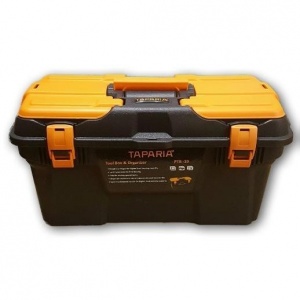 Aluminium Tool Boxes: – Aluminium is a popular choice because it's both strong and durable, and also lightweight like plastic. The cost of aluminium tool boxes is little bit higher than plastic ones, but they do tend to last longer. These boxes are highly preferred in Sectors like Aviation, Transportation and Chemical where durability and lightweight is the  key for business.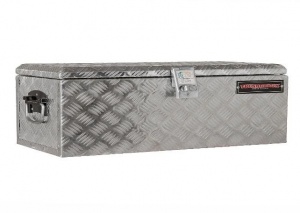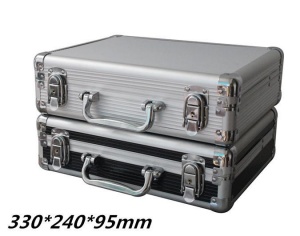 Steel Tool Boxes: – If you're looking for extra heavy duty material, a steel tool box is your best choice. These models are designed for exceptional durability, strength, and wear resistant .While steel can be a bit pricier, they are also easy-to-care-for and typically last much longer than the other options, making them a good alternative for professional and industrial use. These are used where Tool or Equipment's safety and protection is the key for business.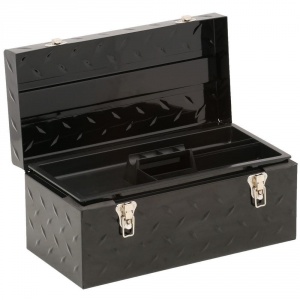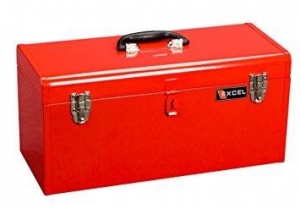 Cantilever Tool Boxes – These toolboxes come in unique and professional design with two or four shelves along with a bottom tray for more load support. Individual shelves will allow for more organization space, which is great as it allows you to access your tools easily without piling up tools on one another. This makes it a great choice for carpenters, remodel professional, and any other professionals who deal with construction work and for whom quick access to tools and time is key. The ergonomic design of these models allows you to lift and carry the box even when carrying heavy loads. The box is constructed with steel body for extra strength. This means that it can be used repeatedly without any problems.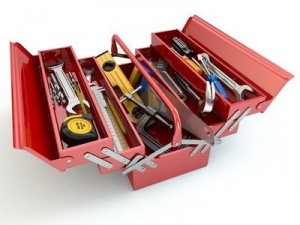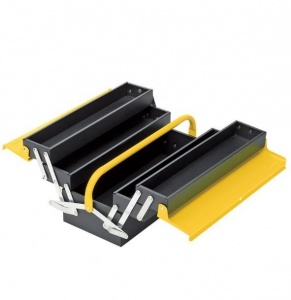 Waterproof ToolBoxes: – These toolboxes feature an all-round water seal which ensures safe and dry storage and are highly in demand when carrying lances, forensic and testing equipment. These boxes are constructed of structural foam for extra strength and has extra-large storage capacity with a lid for easy opening. The tough ergonomic soft grip handle allows heavy loads to be carried with ease and the large metal rust-proof latches provide secure closing and storing.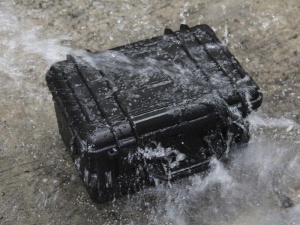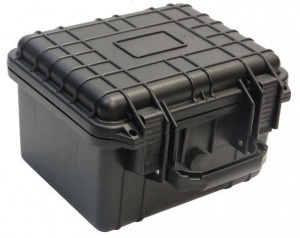 Points To Note while Buying a Tool Box Online:-
Colour and Coating

: – While all the colours can be considered for Tool Boxes in domestic uses,specific colour coating or codes are highly necessary for industrial purpose as per the safety and regulation standards.
Determine Storage Needs: –

Every person's need of tools vary and so does the storage space. A professional carpenter will need a different tool box than an average homeowner who has to repair only small repair works, and a mechanic's need of tools would be much different. The amount of tools owned by a person has to be ergonomically stored in a box without causing extra hurdle in  moving   or safe closing. Someone who wants to store some basic tools for simple home repairs, such as some hammers, pliers, and screwdrivers, will only need a small tool box say basic one to meet his or her needs. Someone who restores classic cars as a hobby or owns a garage however, will require something much more extensive to house a large collection of tools.
Load Capacity:-

Tool box's loading capacity is determined by material it is manufactured and design it has made for  .The kind of Tools someone choose to put in the box decides the weight that a tool box can hold  .Every Tool Box comes with a storage capacity  determined or pre-set to aware the owner  the threshold storage limit and avoid any kind  of accident while carrying and  moving .While small tool boxes come with as low  as 5kg high end tool boxes can sustain weight up to 50 Kg with wheels attached to it for mobility .
Portability:

– Tools can be quite heavy, and if they need to be carried around, then the weight may need to be split up between multiple tool boxes in order to facilitate transportation. Imagine your friend stuck in some repair job and needs the tool you have, but your tool box is too heavy to lift or to facilitate transportation so portability must be considered while purchasing a tool box.
Advantages of  Shopping Online From Industrybuying.com –
No matter what type of job a person has but for their tools, there is always a toolbox that is best suited for them. IndustryBuying.com offers a number of International Brands in Tool Boxes such as Stanley , Bluepoint , JETEch and Pros'kit  along with Indigenous brands  such as Taparia ,Venus Ambitec for every tool storage need . You can choose and compare a number of brands as per their aesthetics, design and price while purchasing a Tool Box without going to a offline store and spending your valuable time. A good quality toolbox not only protects the tools but also organizes it. If you want to browse the widest selection of Tool Storage & Organizer online, buying a toolbox at Industrybuying is the best option. Moreover, Industrybuying provides easy payment options like net banking, debit and credit cards, e-wallet and cash on delivery. Also, businessmen looking to buy goods in bulk can get additional discounts. So, shop online at the Industrybuying portal for attractive deals and offers.