What Exactly is a Sandpaper Sheet?
Sandpaper Sheet is widely used in the industrial sector and even for DIY tasks at home. Even if you are looking to paint your house the first step is to remove the existing paint coat with sandpaper. Also, referred to as Glasspaper, it has a sheet of cloth or paper which has an abrasive material on the other side. Considering the array of applications the Sandpaper sheet is used for it is generally addressed by the abrasive material used.
The sandpaper is also used with a power tool for efficiency. Power-sanding tools remove material quickly and efficiently. Power sanding is an effective method of preparing metal surfaces for paint. Power sanding sheets are available in Sheet, discs, and belts designed to fit specific power tools.
The hand-sanding sheet are used where lighter touch and finishing are required for woodworking. With hand sanding, you have a better reach to the surface and with proper technique, the scratches align with the wood grain and are less visible. You can use some sandpaper for both hand sanding and power sanding.
List of Free Tips to Buy the Right Sandpaper Sheet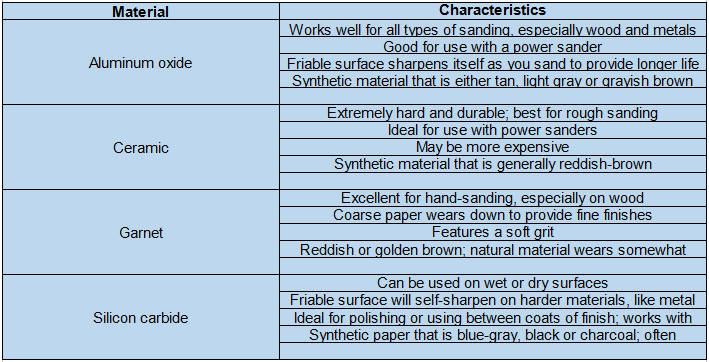 The sheer amount of sanding paper available in the market can leave anyone confused, especially if you are not familiar with the abrasive material and its use. You can find an array of sanding paper in the market.
The only difference and the criteria that differentiate between the sanding paper is the type of Abrasive material used for various applications. Check out the table below which gives a proper insight into different types of sanding paper and their respective characteristics.
Different Types of Sanding Paper Available in the Market
You can easily sort the sanding paper according to the task at hand. Is it for fiberglass? are you looking for power sanding? Do you want durable sandpaper appropriate for aggressive sanding? All these questions have to ask before you finalize a particular sanding paper. To help you with the same mentioned below are the types of sanding paper and their respective applications:
#1)Emery–
Emery sandpaper sheet are used for both hand sanding as well as for power sanding. Emery sandpaper often has a cloth backing and is also known as emery cloth.
#2)Zirconium Alumina–
Zirconium alumina are suitable for wood, fiberglass, metals and painted surface. It's available in the form of belts, pads, and disc for power sanding and lasts longer than aluminum oxide.
#3)Ceramic Alumina–
Ceramic alumina sheet is available in the form of belts and discs for power sanding and used for aggressive material removal on wood. Ceramic abrasives are durable and last longer than aluminum oxide.
#4)Aluminum oxide–
It is a very common sandpaper that works on wood, plastic, metal, and drywall and also used for both powers as well as hand sanding.
Grit Number
The grit number of a sanding product is defined as the size of the abrasive particles. The lower the number, the larger the abrasive particles. They remove more material but create more scratches.
A higher Grit number indicates smaller particles that don't remove as much material but leave a finer, more polished appearance. Sanding projects use several grit sizes, starting with lower number grits and moving up the scale to finer, higher-number grits.
Safety Tips
There is a lot of dust that arises during sanding. If you are working for long hours on wood, wall, etc it might pose a risk to your lungs. Make sure that you opt for the necessary safety equipment. Check out the dust mask or respirator and even safety goggles to make sure that your lungs are well taken care of.
If you're working with a power sander, wear Safety Gloves to maintain proper grip with the equipment. Make sure you are not wearing loose-fitting clothing which can easily get caught in the machine. Industrybuying brings to you a wide range of reliable Safety Equipment such as Safety jackets, Safety Goggles, etc at the best prices online.
Why to buy Sandpaper Sheets Online from Industrybuying?
Industrybuying is one B2B online portal which assorts an entire range of Sandpaper sheets. Be it Wet Sheets, Dry Sheets, Hand Silicon Carbide Sanding Sheet, Wet or Dry Sheet, Silicon Carbide Waterproof Paper Sheet, Eversharp Water Proof Paper, Flint Paper Sheet, Emery Paper Sheet, Hand Sanding, Abrasive Sheets, Emery Sheets, Waterproof Paper Abrasives or others you can find it all at Industrybuying.com.
You can find plenty of renowned brands online at Industrybuying which includes Norton, Wolcut, Bosch, 3M, Carborundum, John Oakey, Standard Make, etc. The company offers exclusive discounts on top brands online and you can also save money on the bulk order as we provide with special discounted rates on the bulk purchase orders.
Check out the wide range of Abrasives available online at Industrybuying.com. You can find Abrasive Chopsaw, Abrasive Cloth Narrow Belts, Abrasive Cloth Rolls, Sand Paper Sheets, Saw Gumming / 'C' Face Wheels, Sharpening Stones, Silicon Carbide Wheels, Single Point Diamond, Dressers, Toolroom Wheels, Wet/Dry Sheet, White Wheel, Wood and Marble Cutting Wheels besides many others and avail great discounts on your purchase.
Industrybuying offers a seamless online shopping experience and special discounts and offers only sweeten the overall shopping experience. You can make the payment via any of the convenient modes among the online channels i.e. Net Banking and transactions through Credit/Debit cards or you can also opt for Cash On Delivery or any of the available EMI plans. The company ships the purchase order above Rs, 1,000 free of cost right at your doorsteps. In the case of any query or doubt feel free to reach out to us via the Toll-free number 1800-300-09551.